A first at Matisse – Braised Octopus Special!
October 26, 2015 at 3:27 am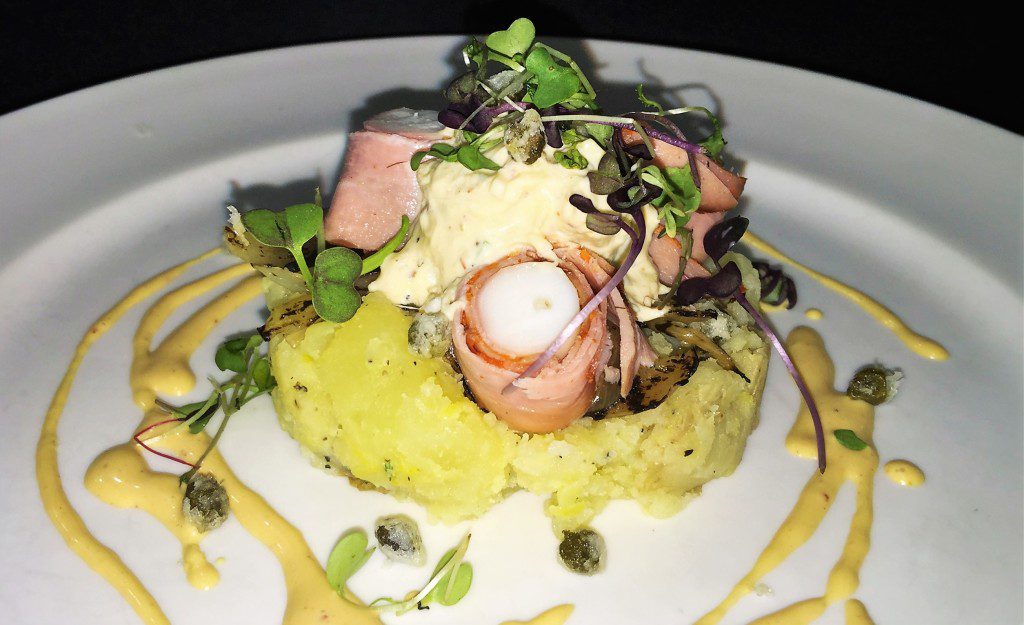 Hi folks and a warm welcome to all of our foodie friends from Chef Peter Loria at Cafe Matisse.
Today, a fish purveyor from Ocean Frost came in and sampled us on octopus. This is new for Matisse as we have never put octopus on the menu before. Although I have enjoyed it at other restaurants, I have never made it myself.
To prepare it, we cleaned it and covered it in a braising pan with olive oil, fresh thyme, lemon slices and cork. Why cork, you ask? Well, several sources suggest that cooking with cork tenderizes the meat. Then we covered it and placed it in a 300 degree oven to braise at a low temperature for three and a half hours. After the octopus was cooled in the oil, we removed the tentacles and found the leg meat to be quite tender. It had quite an interesting texture of melting in your mouth like a piece of butter.
Then I worked up a new recipe for it. To be served unheated, wrapped in Tasso ham, served with lemon thyme Yukon crushed potatoes. Then I charred onions on the grill to add a bit of smokey flavor that I was looking for to go with the ham. Next, I topped it with a crab relish, because who doesn't like crab and octopus? Also fried capers, mustard aioli and baby greens. It was quite lovely and the response was enthusiastic.
We will be running this as a special over the next few days.
Hope to see you soon. Sincerely, Chef Peter